Baaaaaah Humbug!!!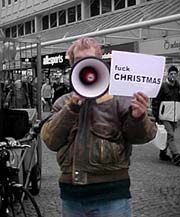 I hate Christmas...
I hate shopping in December
I hate picking out gifts
I hate spending money on people because Im obligated
I hate sitting with relatives I dont know
I hate sitting with relatives I do know
I hate snow
I hate sweaters
I hate Christmas carols
I hate fruit cake
I hate red and green as a pair
I hate candy canes
I hate wrapping gifts
I hate cleaning up wrapping paper
I hate filling out christmas cards
I hate listening to drunk relatives repeat stories about when I was 2 for the 27th year in a row
I hate traditional Christmas trees
I hate the price of decent tree orniments
I hate Christmas elves they are creepy
I hate Santa..because hes a big fat lie
I hate myself for ever believing in Santa
And...last but not least I think Rudolph was a pathetic reindeer who should have been shot in the first scene!!!!
thats all..... :)